If you've been following my blog for a while, you know how important fashion is to me and how much joy it brings to my life. I took my love for fashion and applied it to my religious wedding ceremony. It's one of the most important days of my life, so why wouldn't I go all out? For my wedding, I had a rehearsal dinner look, my wedding gown, and then two more looks that I could repurpose for future events.
Rehearsal Dinner Look
Before the wedding takes place, there is always a rehearsal dinner to make sure everything runs smoothly. However we thought the idea of a dinner was kind of boring so we hosted a cocktail event instead. I wore a beautiful sequin bead tulle gown by Italian designer, Elisabetta Franchi. This designer has been designing under her own name since 2012 and has won many women over with her feminine, elegant, witty and glamorous style.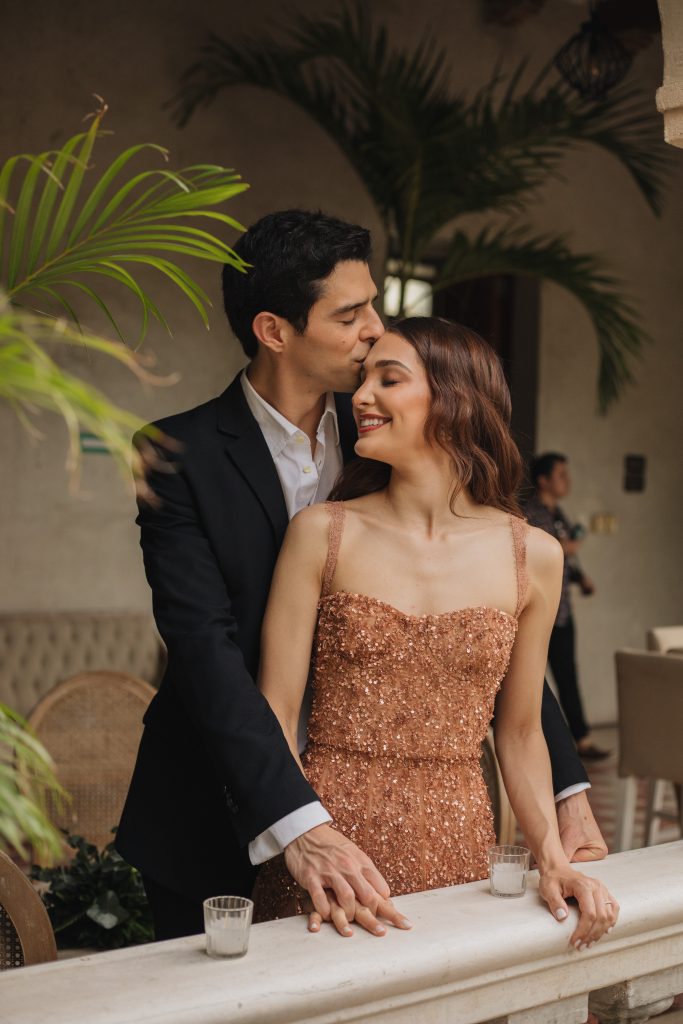 I fell in love with this dress when I was on a vacation with my parents in Spain. When my father and I were walking to get lunch, we saw this dress in a window and I knew I had to have it. I love sequins and they're trending, so my decision was pretty much made for me. I also felt like it wrapped my body perfectly.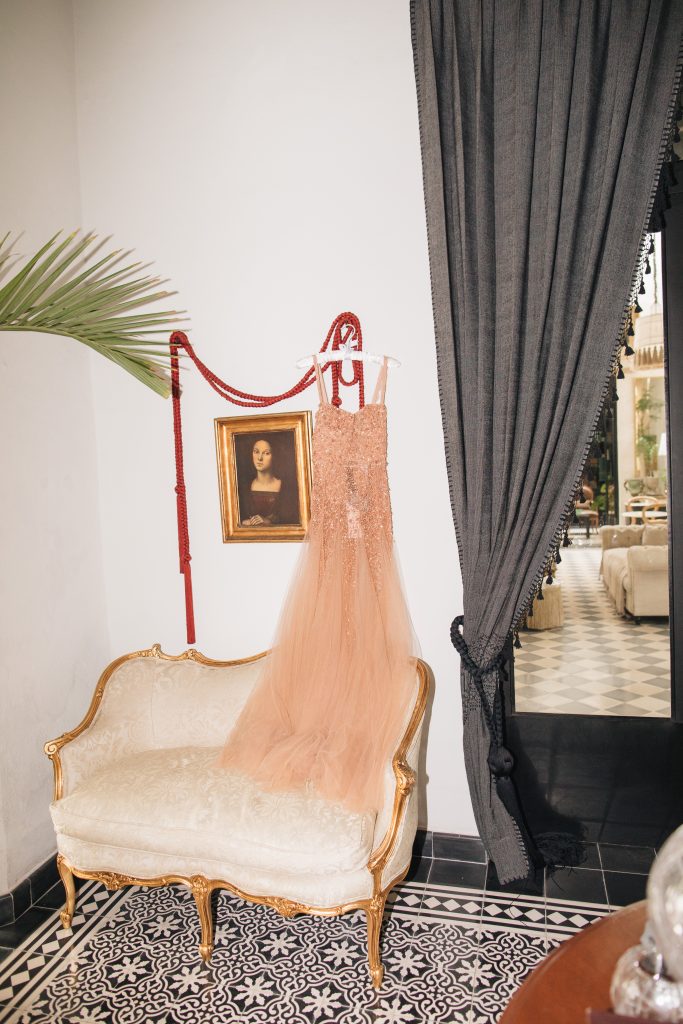 I paired the dress with a pair of copper Aquazzura heels. Edgardo Osorio is the creative director behind this brand and he is originally from Colombia. You guys know I was born in Costa Rica so I love supporting Latin American designers. The shoes are not just beautifully crafted but they are also extremely comfortable.
Pictures from that night: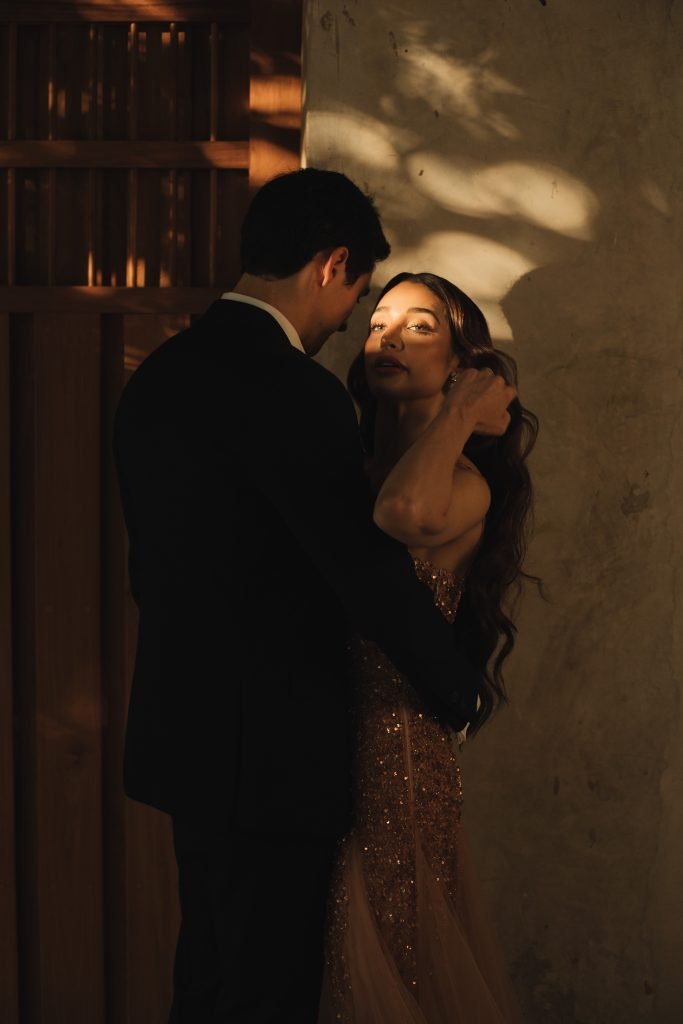 Some similar dresses you can find online:
The Wedding Look
The main event! My wedding gown was designed by Carolina Herrera, who launched her bridal line in 1987. A firm favorite for celebrities and everyday women alike, she channels classic elegance and refined sophistication.
Because of her ethos, I knew she would have something for me that was classic, timeless and simple. I firmly believe in less is more, and that's exactly what I got. I also went for a simplified look because the real statement piece was my grandmother's earrings. These earrings needed a simple gown that would let them shine in all their glory! Wearing her earrings on my special day is something I'll never forget.
I got the gown at Ever After, a high-end bridal boutique in Miami. They made the process of finding the perfect dress, trying it on, and sealing the deal so memorable. They tailored it to my body to really make it mine and that wasn't an easy task because I'm extremely flat chested. I would definitely recommend Ever After for your wedding dress shopping!
Now, no wedding gown is complete without a veil! My mom and I searched all through Europe to find the perfect lace and tulle for my dream veil. What made it even more special was that my mom designed it for me! Once the design was done, we approached an atelier in Miami to make it.
Finally, the shoes. Getting a pair of Manolo Blahnik's was a no-brainer – I might be more obsessed with the brand than Carrie Bradshaw! I love the quality of the brand and I knew it was a worthwhile investment as I definitely see myself wearing them again.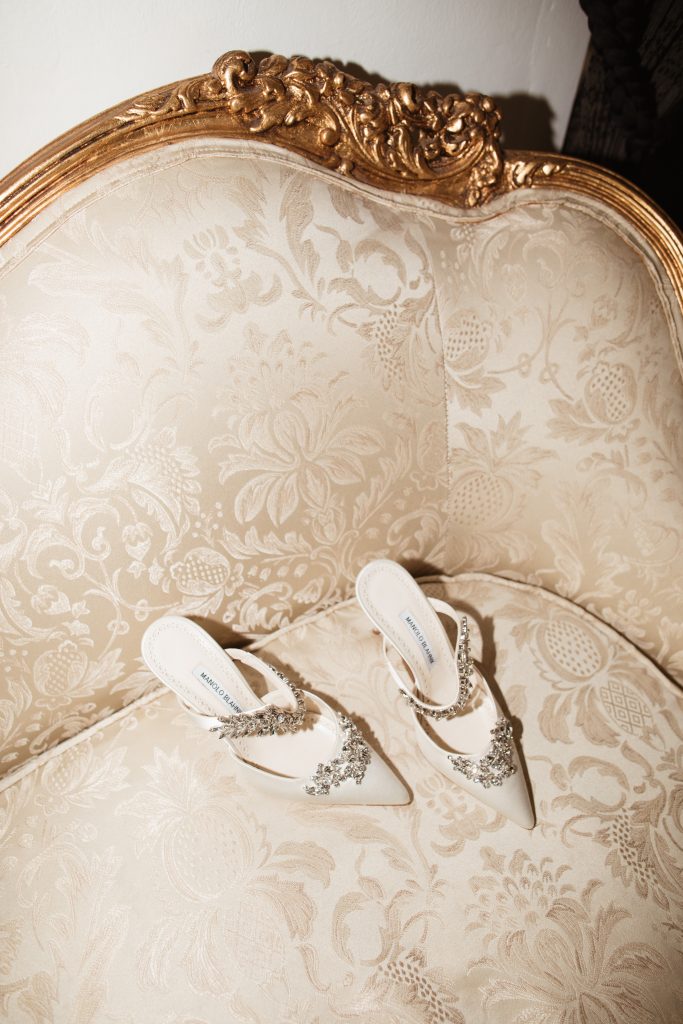 Carolina Herrera Bride:
The Second Look
For my second look, I went with a sleek, sexy halter dress from Australian designer, Michael Lo Sordo. This dress is a perfect representation of his style: elegant, backless, sexy silhouettes. He's been on the rise since 2006 and is loved by the likes of Kim Kardashian, Margot Robbie and Gigi Hadid.
Much like my wedding gown, I wanted something that was simple and timeless. As I mentioned above it was very important for me to pick pieces that I could wear again after my special night. I paired this dress with a pair of green sparkly Manolo Blahnik shoes to give it a bit more edge.
The Final Look
Last but not least, my final look was a short cocktail dress from Solace London. This brand was launched in 2013 and describes its aesthetic as "Bold, confident, refined. Modern futurism balanced with timeless minimalism". The dress's dramatic sleeves and pleated section definitely scream bold!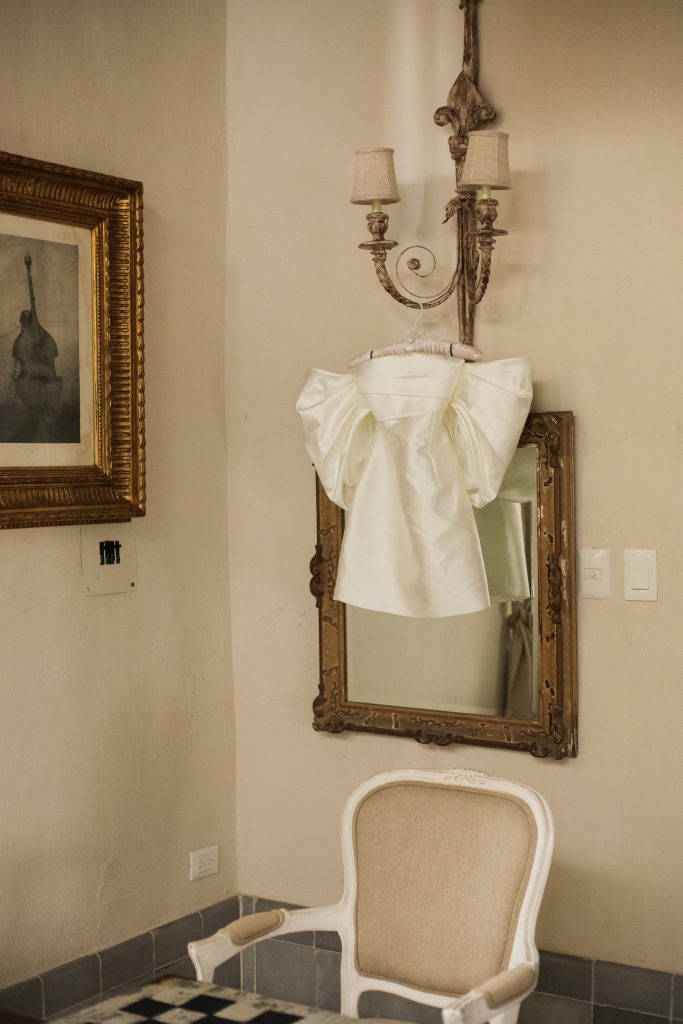 I switched to a short dress because our wedding destination, Merida, Mexico, gets pretty hot and humid at night! So, if I wanted to dance the night away, I knew I needed a dress that was light and airy.
I got this dress from REVOLVE, an online store that I've been working with for two years and has become family to me. Wearing something from them on my special night, something that represents my journey with them, was very important to me.
To tie the look together, I wore a pair of stiletto heels from Aquazzura. These heels were also a great investment because you'll be seeing a lot of them in looks to come. Especially for the holiday season.