NYFW Highlights: The Fashion Shows You Can't Miss
Unfortunately, I couldn't make it to New York Fashion Week in person this year, but trust me—I was glued to my screen, devouring every look, runway, and designer moment. I'm a fashion junkie at heart, and I love breaking down trends, silhouettes, and color palettes to dream up future outfits. NYFW is always bursting with creativity, and while many brands caught my eye, a few shows really stood out. Here are the ones you've got to see.
Coach
The Coach Spring/Summer 2024 show at NYFW was a trip down memory lane for Creative Director Stuart Vevers, celebrating his 10-year tenure at the brand. The setting—a library in New York—served as the perfect backdrop for his '90s NYC-inspired collection. Leather made a strong showing, as did slip dresses that felt like vintage finds. Oversized blazers and suits added a 'power exec' vibe to the collection.
The eco-conscious move of repurposing old leather and fabric was a cool touch, seen in items that felt familiar yet fresh. And let's talk about the shoes: jelly flats in pastel colors were a highlight, adding a youthful feel to adult looks. But the true stars? Coach's iconic handbags, which came in everything from extra-large totes to whimsical shapes.
In a nutshell, the show felt like a 'best hits' playlist from Vevers, blending nostalgia with modern, wearable fashion. No wonder Coach has been a trendsetter for decades.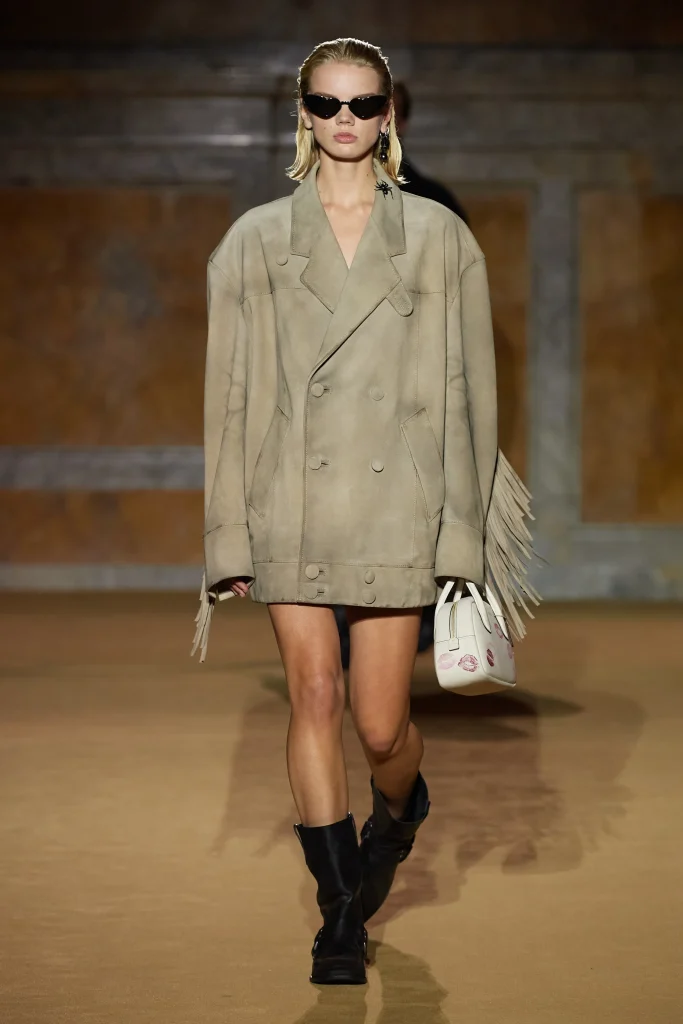 Dion Lee
Dion Lee's Spring collection at NYFW was a seamless blend of utilitarian and sexy. The designer delved into "tool shed corsetry," using items like wrenches as external boning on white bodysuits and work boots' cord for lacing. The industrial vibe continued with screws replacing studs and utility pockets gracing the hems of tailored pieces.
But Lee didn't stop at utility. He wove in signature sexy elements like cutout laces, which looked stunning paired with basketball shorts. Parachute boots and sensual knit dressing provided soft counterpoints to the edgy leathers and sharp tailoring.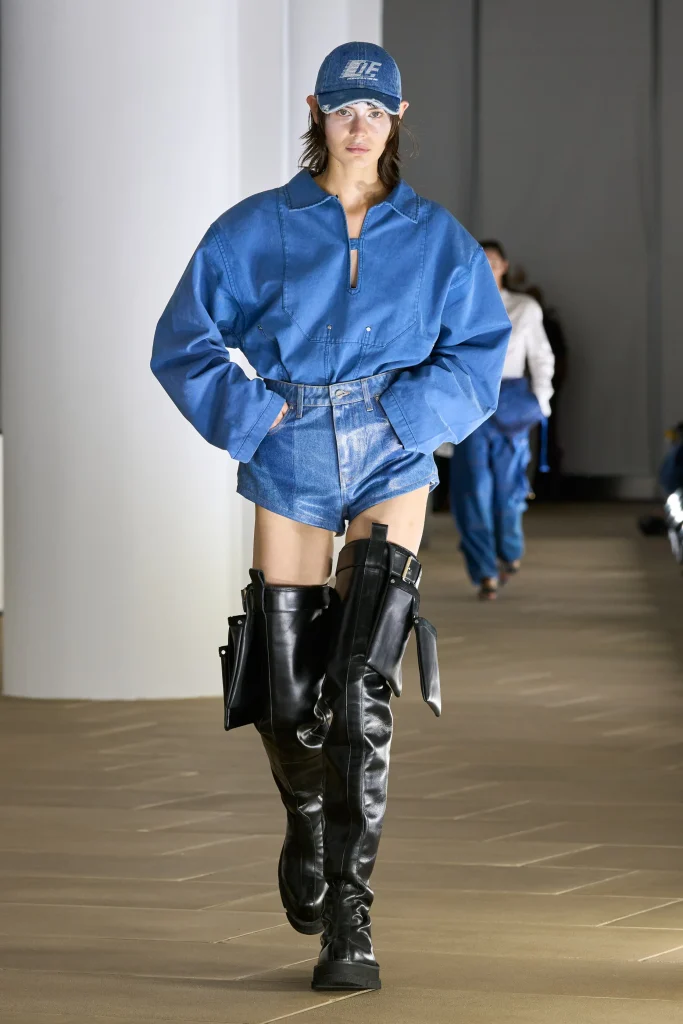 The collection also had an artistic layer. Inspired by his past work with electrical cables, Lee created garments with gathered volumes and airbrushed leather skirts in metallic colors. Even the show's lighting played a role, influencing the collection's use of light and reflectivity, evident in pieces like ombre jeans.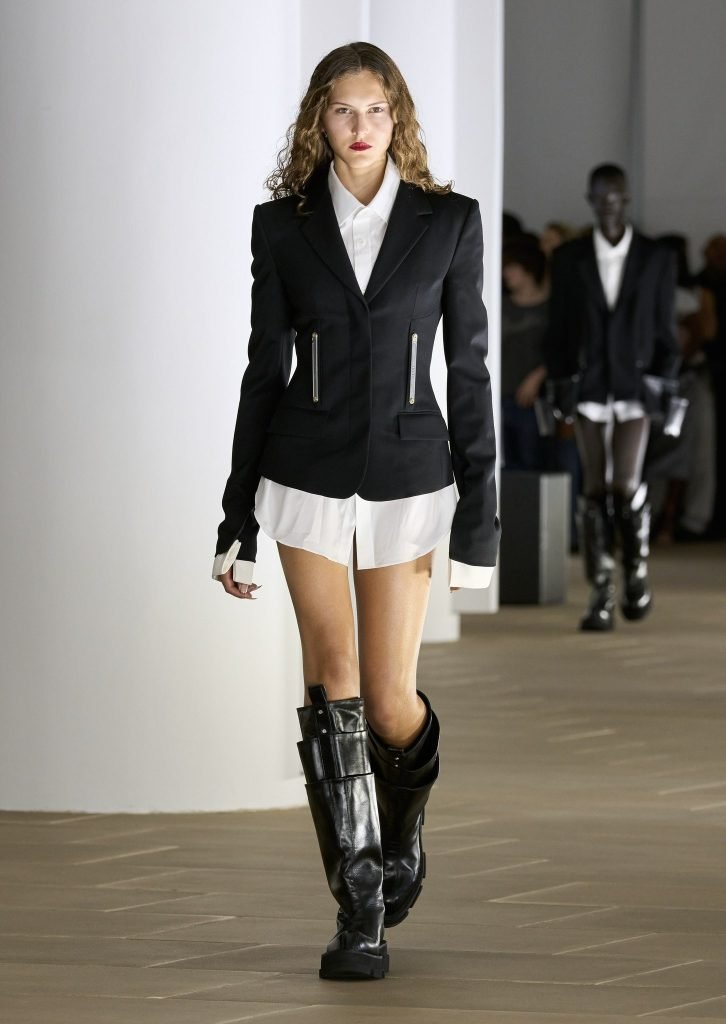 Laquan Smith
LaQuan Smith knows how to host a fashion show that's more like a star-studded party, attracting big names to the Lower East Side. This season, the designer went for what he calls "raw, futuristic, sci-fi glamour," reminiscent of style legends like Grace Jones and David Bowie. The runway was a spectacle of models in crisp shirts tucked into leather HotPants, metallic leathers in shades like pink, purple, and silver, and gowns that weren't shy about showing some skin.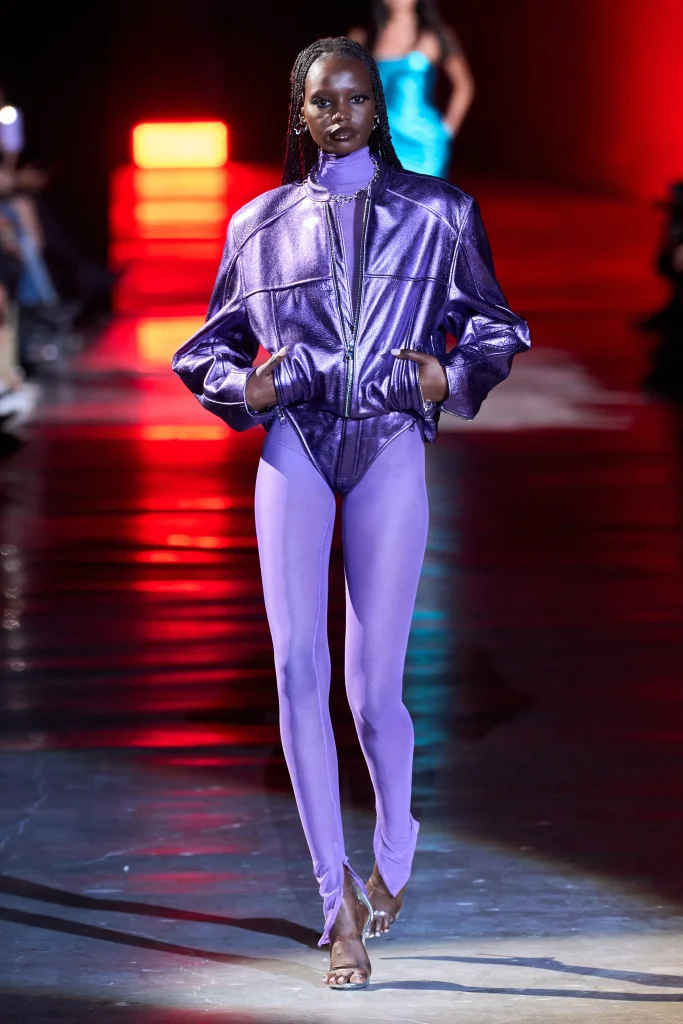 There was also a variety of pants, from slouchy denim cargo that could unzip into shorts to zipper-pleated croc miniskirts. Although the collection had a lavish, dramatic flair, it also included a navy glossy croc trench that surprisingly dialed things down a notch. It's evident Smith loves making "unapologetically sexy clothes," although this collection seemed to teeter between high-end club wear and luxury sportswear.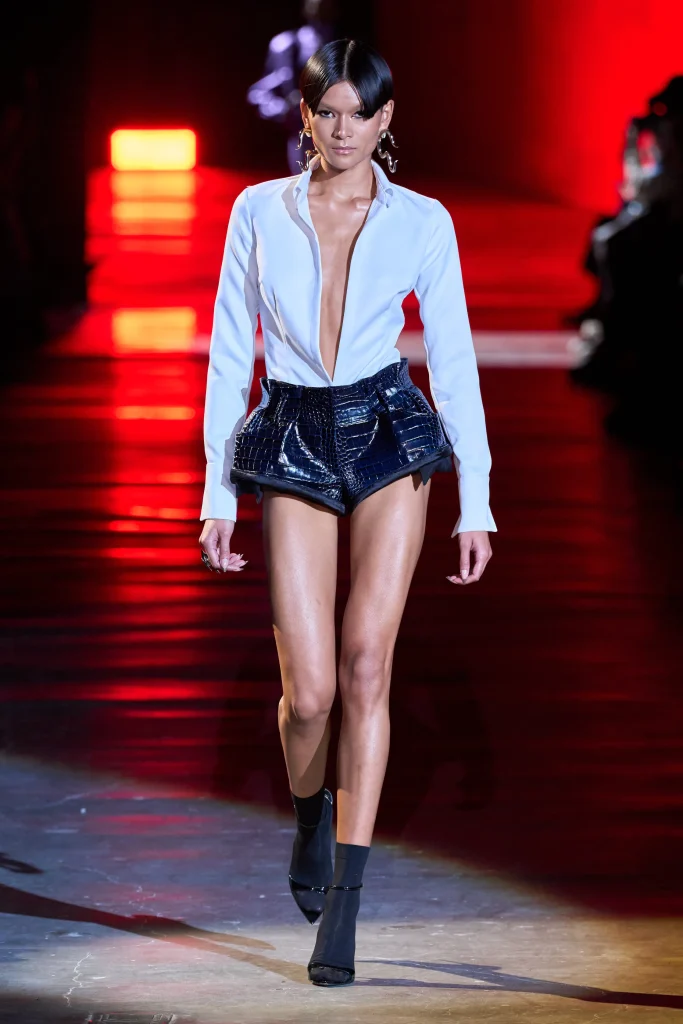 Ralph Lauren
Ralph Lauren transformed the Brooklyn Navy Yard into a luxe artist loft inside a barn for his recent return to New York Fashion Week. The designer focused on an eclectic collection that celebrated artists and bohemians, blending the brand's preppy roots with more decorative elements. Think porcelain-inspired florals, embellished denim, and even a rhinestone-encrusted jean jacket that took denim to glam levels. White embroidered prairie dresses and a dazzling white suit set the country-chic vibe.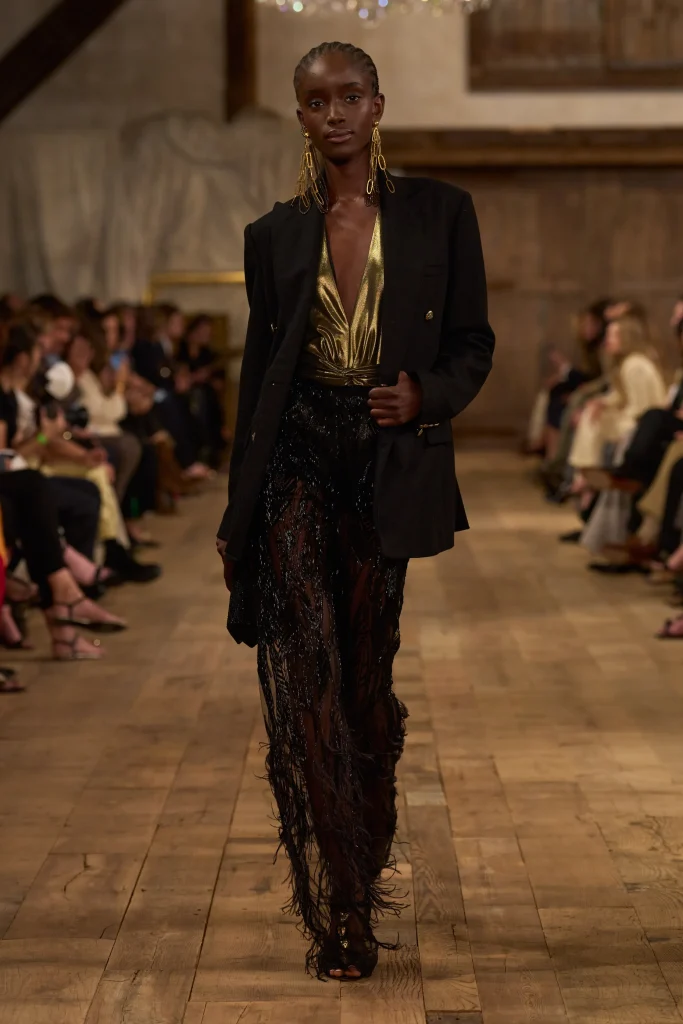 The show didn't shy away from accessories, with the new RL 888 bag making its debut and Polo pony baseball caps that have been sported by celebs like Taylor Swift and Jennifer Lawrence. Jewelry was also a major focus, featuring everything from snake necklaces to layers of beads.
The collection explored a variety of fabrics and patterns, including vibrant jewel-tone pieces like a purple fringe halter dress that's begging for Jennifer Lopez to wear it. Overall, Ralph Lauren's collection was a rich tapestry of style influences, clearly showing that when it comes to fashion, the designer still loves to mix it up.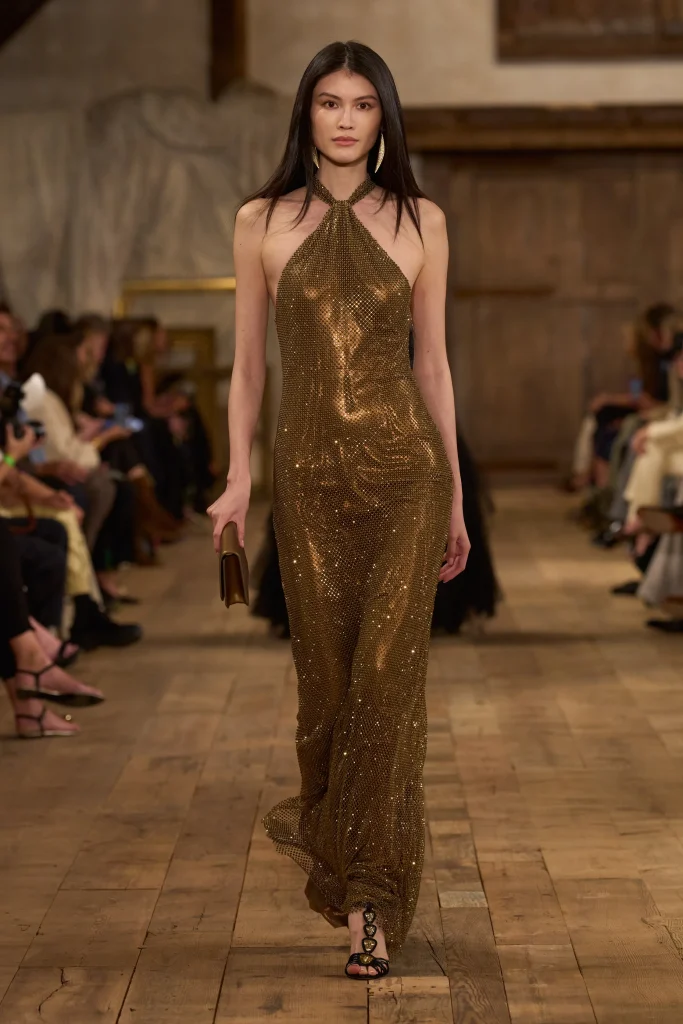 Staud
Sarah Staudinger of Staud brought a 90s-inspired mood to The Plaza hotel, evoking an atmosphere of carefree glamour. The runway was full of smiling, twirling models dressed in outfits they chose themselves, embodying an energy reminiscent of Isaac Mizrahi's iconic moments. The designer even noted that the 1995 documentary "Catwalk" was a huge inspiration for her.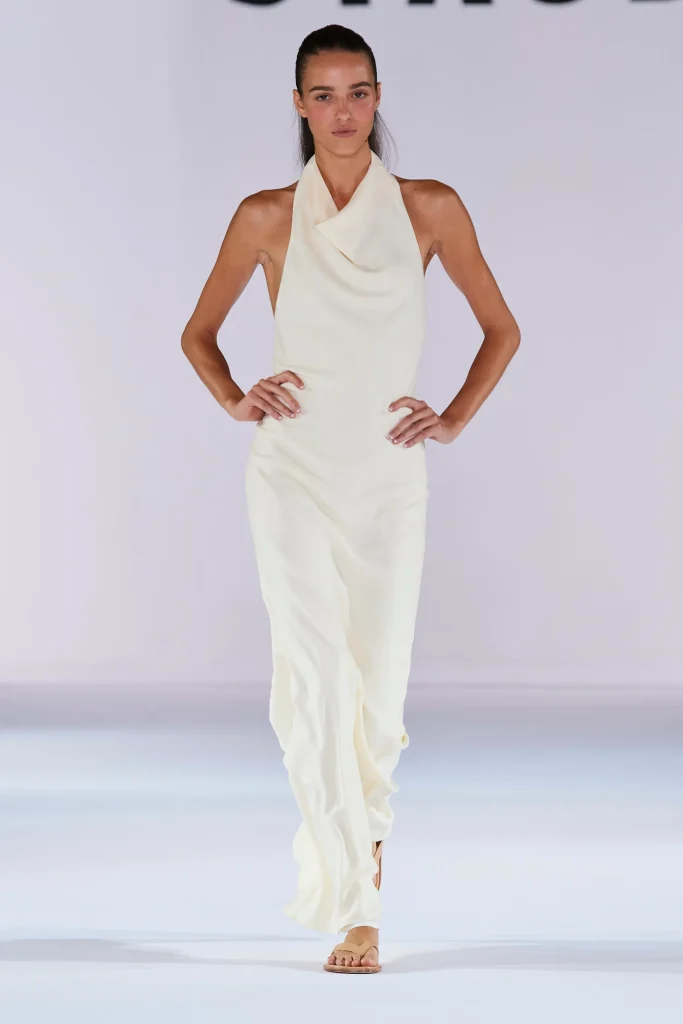 The show included nods to Mizrahi in its taffeta low-waist ballskirts paired with casual tanks or cashmere shells, along with silk Dupioni column dresses. A beachy glam aesthetic was captured through crystal mesh dresses, starfish motif crochet dresses, sequined trousers, and flower-dotted bikinis. The collection also featured relaxed three-piece suits and denim from the Staud x Wrangler collaboration, adding a touch of California ease.
In Staudinger's words, the show was not about spectacle but rather "unfussiness." All the models wore flat shoes, grounding the collection in relatable, everyday glamour.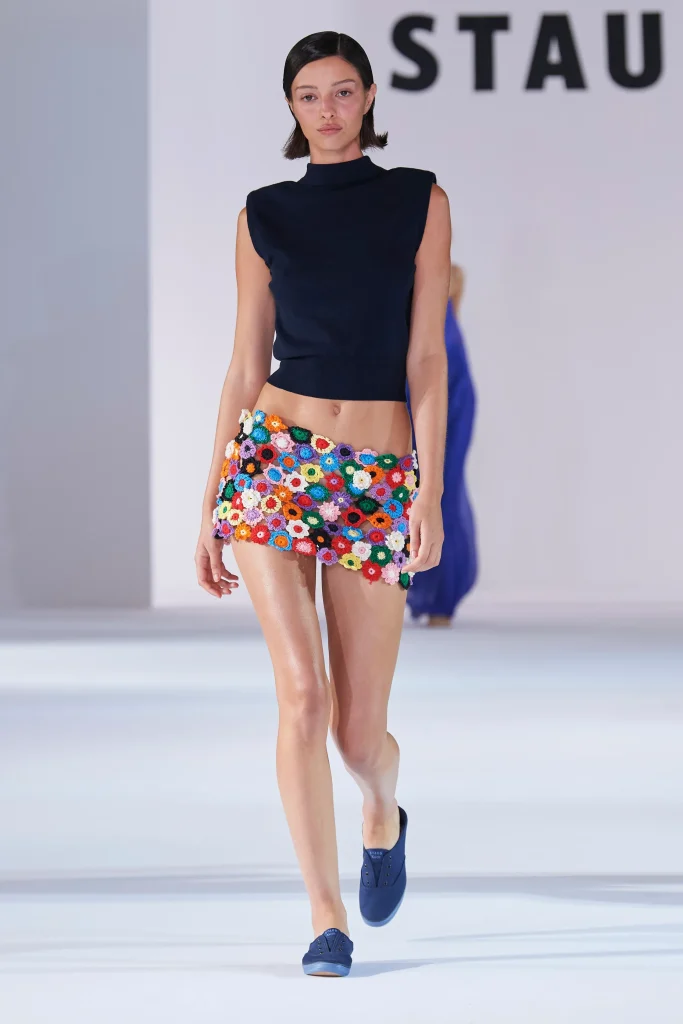 And there you have it—these are the NYFW shows that left a lasting impression on me. If you're as excited about these upcoming fashion trends as I am, then we're in for a stylish season ahead. Got any favorites of your own? I'd love to hear your thoughts. Slide into my Instagram DMs and let's talk fashion!