Last week I was invited to go on a trip with Chanel Beauty to Panama to review their new line called N1. Besides feeling super grateful about the opportunity, I wanted to share with you guys some additional details because the entire experience was really planned out well.
We arrived on a Tuesday and checked into the Hyatt La Compañia hotel located in El Casco Viejo. (old part of town) If you have never been to this part of the city let me tell you a bit about this energetic neighborhood. It's listed as a UNESCO World Heritage site and you definitely feel like you were transported to a different era. Without a doubt, this place is perfect to go on walks, find great food spots and enjoy some drinks at one of their many rooftops. The hotel had a European vibe to it and the service was amazing. We had breakfast every day at the hotel which was included and we had dinner one night. For breakfast, you must order the lemon-ricotta pancakes.
On our second day, they took us to review the new collection called N1. The whole stand was inspired by a plant nursery theme, reflecting nature and the presence of the secret ingredient of the Chanel beauty products: the red camellia. I really enjoyed walking around, testing out the products, and meeting other content creators from different parts of the world. All of us were able to bond through our love for the brand and we had lots to learn from each other.
There are two main reasons why I fell in love with this new collection:
It's perfect for all types of skin. I'm usually very sensitive to new products and I break out easily since I have such oily skin. To my surprise, my experience was completely the opposite that day when I tried their revitalizing serum and the cream.
It's an eco-responsible beauty line that minimizes impact on the environment while offering eco-design packaging made from 97% naturally derived ingredients.
Now let's talk about my outfits. For our first dinner, I wanted to use my CC logo platform ankle strap pink shoes. I paired them with a pair of black shorts from Revolve and a black blazer from Zara.  Adding the translucent socks was a risk… I know, but I believe it paid off. I added a bow to my hair to make the look seem a bit more Parisian and a Chanel bag. I loved the outfit but looking back it wasn't the best decision. The heat in Panama was intense and I might have been sweating all night long.
For our second day, I wore a yellow matching suit from Songofstyle which you can get at Revolve, paired with a blue tweed blazer from Zara and some Chanel classical gold shoes and a bag. My stockings ripped after the first hour and I must say I was very disappointed. Finally, for our last dinner, I decided to focus on an attention-grabbing hairstyle. I wore a black simple dress from Zara, with Chanel shoes and a bag. Some vintage earrings from my mother and some long black gloves finished the look. This was my favorite outfit by far and I felt so comfortable in it.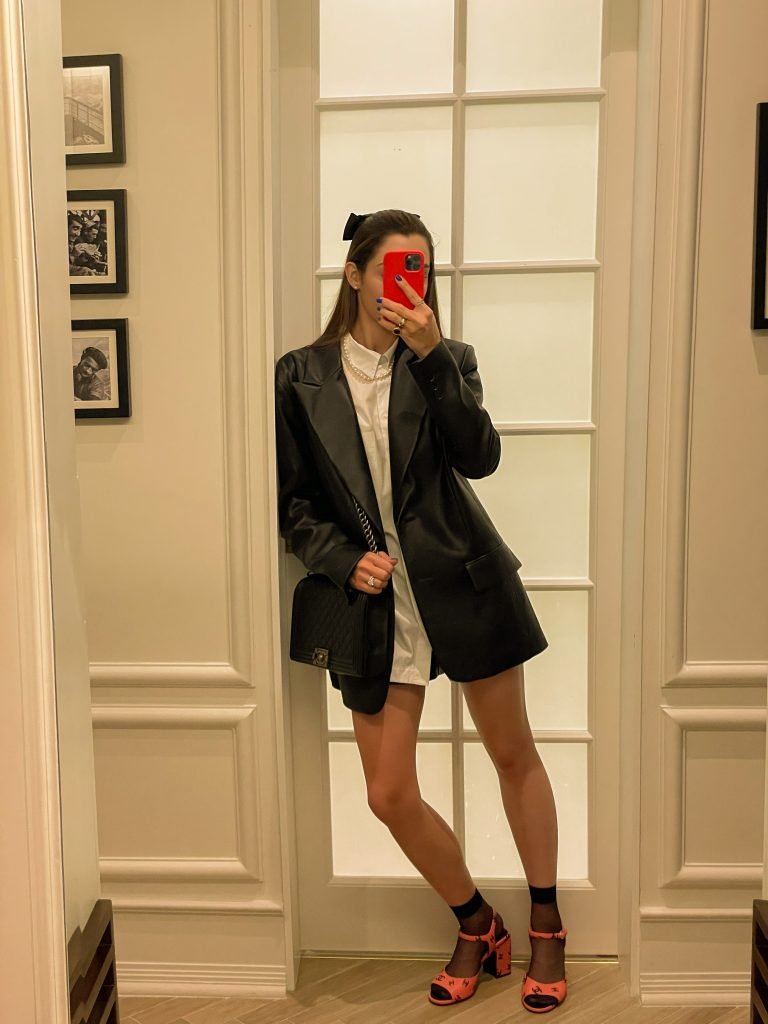 Before I could blink the entire experience was over. I must give credit to the entire Chanel team for putting together such a wonderful and pleasant trip. Thank you for having me and if you are reading this thank you for being such an important part of my community. Feeling endlessly grateful for all of you guys who keep me company and are constantly providing constructive feedback.