Chanel, a name synonymous with elegance, sophistication, and refined beauty, has held a special place in my heart for as long as I can remember. Established by Gabrielle 'Coco' Chanel in the early 20th century, Chanel began as a millinery shop before eventually becoming one of the most esteemed names in fashion and beauty. Today, its innovative creations continue to define modern luxury, with beauty products that are as sophisticated as they are timeless.
In this article, I'll be sharing some of my absolute favorite Chanel beauty products, their unique features, and why they have become an essential part of my beauty routine.
Les Beiges Healthy Glow Sheer Colour Stick: This blush stick is a dream for anyone seeking a natural, healthy glow. It blends effortlessly into the skin, providing a delicate wash of color that can be built up or toned down to suit your preference. The added bonus is its ultra-portable stick format, making it perfect for on-the-go touch-ups.
N°1 De Chanel Lip and Cheek Balm: This product is all about versatility and convenience. Its hydrating formula nourishes the lips while offering a subtle tint that enhances the natural color of your lips and cheeks. The end result is a fresh, radiant look that feels as good as it looks.
Baume Essentiel Multi-Use Glow Stick: Who doesn't love a good highlighter? This glow stick delivers a transparent glow that enhances the skin's natural radiance. The light, balm-like texture feels soft and comfortable, while its light-reflecting properties catch the light in all the right places.
Les Beiges Travel Size Healthy Glow Bronzing Cream: This is a staple for anyone looking to achieve a sun-kissed look without the sun. Its velvety texture blends seamlessly, offering a warm, bronzed tone that looks incredibly natural. And its travel size is perfect for maintaining that healthy glow on the go.
Les 4 Ombres Limited Edition Multi-Effect Quadra Eyeshadow: Offering four coordinated shades in a single compact, this quad allows for endless creativity. Whether you're aiming for a subtle daytime look or a dramatic evening effect, the rich pigmentation and blendable formula make it a joy to use.
Le Gel Anti-Pollution Cleansing Gel: A cleanser that's gentle, effective, and luxurious. This cleansing gel removes makeup and impurities while protecting the skin against the damaging effects of pollution. After each use, your skin feels refreshed, clean, and ready for the next step in your skincare routine.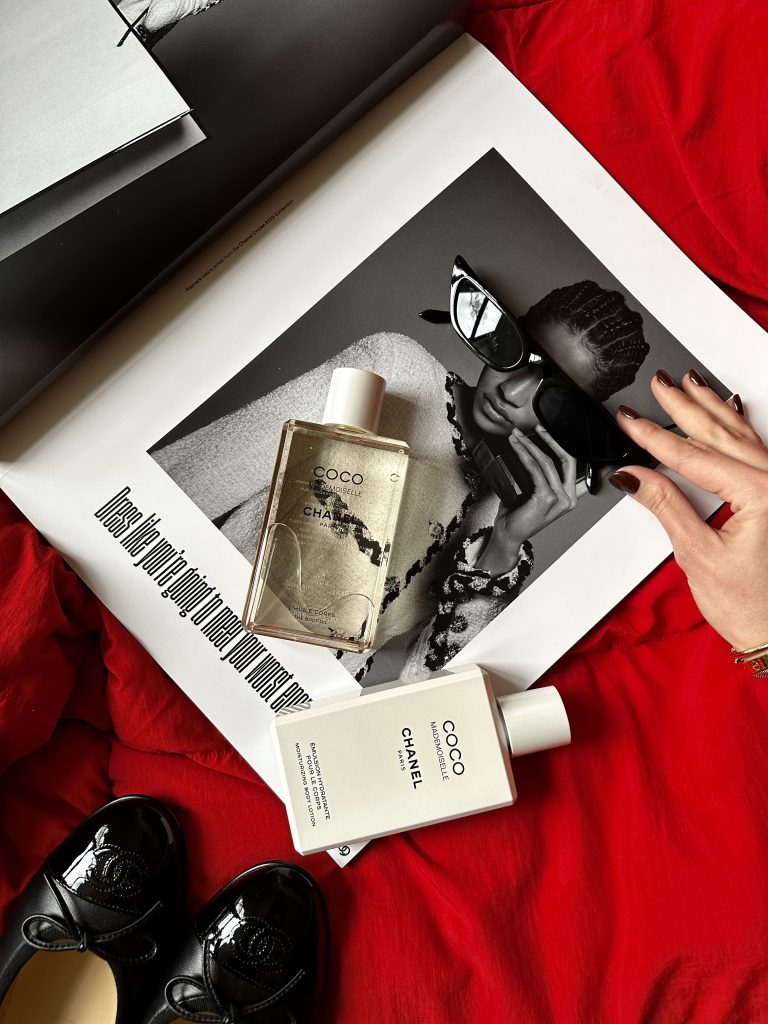 Gabrielle Chanel Eau de Parfum Spray: No Chanel beauty list would be complete without a nod to their iconic fragrances. Gabrielle Chanel Eau de Parfum is a radiant and sparkling floral fragrance that exudes sophistication and charm. It's the kind of scent that leaves a lasting impression.
Rouge Coco Flash Hydrating Vibrant Shine Lip Colour: This lipstick is about more than just color – it's also about comfort and shine. It glides on smoothly, offering instant hydration and a stunning, glossy finish. With a range of colors to choose from, you're sure to find your perfect match.
Each of these Chanel beauty products brings a touch of luxury and sophistication to my daily routine. I hope you find them as enchanting and effective as I do. As Coco Chanel once said, "Beauty begins the moment you decide to be yourself," and these products certainly help me feel my most confident, radiant self.